Ingeniva has a focus to improve project management best practices to create maximal benefits for a project. Our team of consultants are experts in project controls and unquestionably we provide satisfying results. We realize that analysis can be improved further. Recently, we ended up having a partnership with Deltek to implement Deltek Acumen in our portfolio of solutions. In short, it offers insights into the realism and reliability of your project schedules through schedule diagnostics, timeline optimization, and risk analytics. The outcome is an effective and efficient schedule with on-budget project completion.
Ingeniva X Deltek
Deltek has been delivering various software and information solutions for different businesses through project intelligence, management, and collaboration. The partnership between Ingeniva & Deltek is intended to collaborate this software solution to give a more positive impact on our team in giving advice and solutions to our clients. We strongly believe our team can have higher productivity with the implementation of this software solution.
We start our partnership by implementing three software solutions, i.e., Acumen Fuse, Acumen Risk, and Acumen 360. These software solutions result in different levels of schedule maturity. Before going further, we will focus on the first one, Acumen Fuse.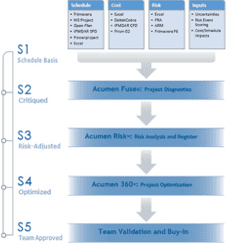 1 Level of Schedule Maturity
The Traditional Practices
In the current practices, schedule analysis mostly relies on engineers/experts' past experience and the DCMA analysis within the scheduling tool of choices, such as P6 and MSP. Especially, this traditional method is not suitable for a complex project. It is not efficient compared to Deltek Acumen.
Acumen Fuse
Acumen Fuse is the first software solution and it aims to reach level 2 schedule maturity. Acumen Fuse helps analyzeschedule and cost data to create the best schedules and most accurate cost estimates possible. Built-in project intelligence and maturity framework help score quality and identify areas for improvement to ensure project plans are structurally sound, realistic, and optimized. Some examples of processes in the Acumen Fuse are schedule health check, diagnostics-trend analysis, what if-logic sensitivity, and forensics-schedule change.
The Standard
The metrics that come with Acumen Fuse were created from project management best practices, industry standards, compliance metrics, and specific Fuse metrics. These metrics are grouped into a Schedule Quality, Advanced, and Industry Standard Metric Library. Within these groups, individual metrics are listed together in categories of like metrics. All metrics can be customized for specific needs.
Processes
In a simple way, Acumen provides insights once you import your schedule from selected scheduling software and one of the layouts is shown below. This layout provides DCMA analysis with various point of view that provides you a better insight into the project. It provides you with scoring, trends, and forensic analysis of progress updates. Also, it applies different colors to differentiate good and bad performing measures. You can also edit your own metrics according to your project's condition.
The process does not stop here. Following the analysis with Acumen Fuse, the next step is implementing Acumen Risk to reduce risk and uncertainty, which will result in an accurate forecast you can rely on. The third process is the implementation of Acumen 360 which provides you scenarios in real-time. It provides you with some insights on different opportunities or threats with the use of "What-If" analysis.
Integration
Acumen Fuse integrates with multiple schedule planning programs, risk analysis programs, cost analysis programs, and MS. Source data can be any combination of schedule, cost, or risk data and does not require the native tool for import. By integrating with multiple programs, it can neutralize the issues that arise when projects or programs have multiple planning platforms in use.
Benefits
Here is the full list of the benefits of implementing Acumen Fuse.
The Application
As stated that Deltek has been a partner of Ingeniva. We ensure that our experts implement Acumen Fuse on a daily basis when they deal with scheduling. But, we do not stop there. We also implement Acumen Risk and Acumen 360 which will result to reach the highest project maturity. You do not have to worry because we do the work.
Conclusion
The partnership between Ingeniva and Deltek will definitely integrate expertise and their knowledge, and the software solutions. It creates added value to our organization and provides our clients with impactful advice. We are very happy with this partnership and look forward to implementing it with other clients.
Do you want to achieve on-time completion on your project and within your planned budget? With our team, we ensure you achieve success on your project. You can check our services here. If you have further questions, do not hesitate to contact us.